China has a long history of poetry writing and both traditional and modern poetry enjoy wide popularity for people all ages. Poetry can reflect Chinese people's feelings about the world in a very precise and tangible way. Since 2019, the top Chinese poetry journal POETRY collaborated with Pathsharers Books from Washington D.C. to produce a Chinese-English bilingual online website named 21st Chinese Poetry, which presents the latest and widest Chinese poetry writing in English. Now all these poems are all available for free online and will be published in books in the future.
CLRC Express selected a few of these poets, whose dwellings range from cities to the countryside and from bustling eastern towns to vast west deserts, who write, or ponder, or sing, or chant about the relations between history, future, humanity and nature from the deepest of their hearts. For further reading please visit: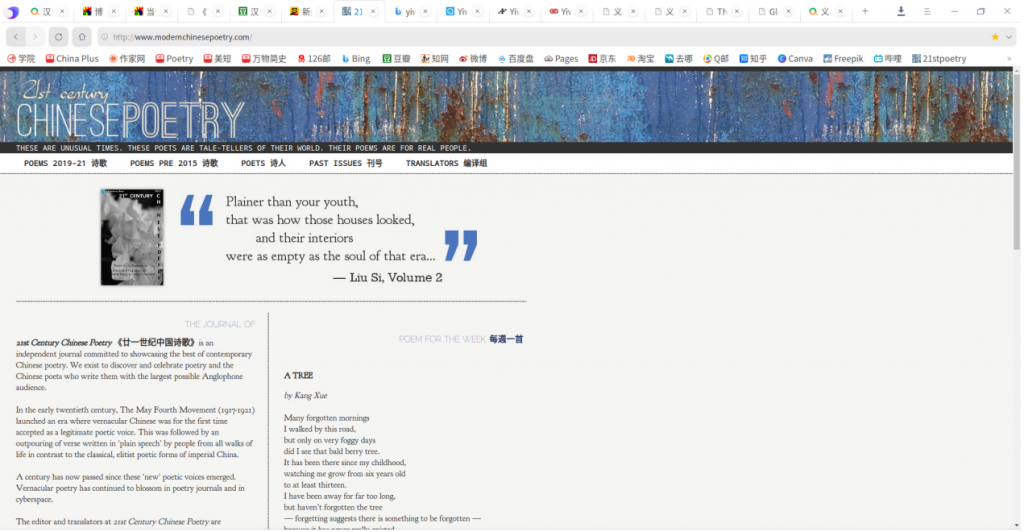 Keyword: contemporary Chinese poetry, Pathsharer Books, 诗刊社,汉诗英译
Authors: Li Shaojun, Chilechuan, Ah Xin, Bai Ma, Chen Yundong
Translators: Meifu Wang, Michael Soper, Peter Micic, Johan Ramaekers
Unearthed in Yiwu*
by Li Shaojun
Yiwu is very trendy, the epitome of International Trade City.
Yiwu is also very earthy, its classic image
is still a peddler calling with a pellet drum.
At the Yiwu bus station, the bazaar atmosphere
is sizzling, and the smell of groceries is mixed with that of sweat.
Laughter, crying, and scolding commingle to make up a noisy torrent.
Rolls-Royce and migrant workers with poled baskets all stuck at the street corner.
Anxiety, joy, pain, different faces flash in and out, until
no-one can tell you if it's tears or drizzle seeping into the soil.
Here, I feel the profound meaning of grass roots.
After a short trip to Yiwu, my usually sleek
corduroy trousers caught some of the long-parted mud.
In the metropolis, there is only concrete;
but here, there is the simple fragrance of soil and weeds…
*Yiwu International Trade City,located in Jinhua, Zhejiang Province, is the world's largest small commodity center. Foreign media awards it as "the ocean of the commodities and the paradise of the shoppers" with over 1.8 million types of commodities being produced here and sold to over 210 countries.
This poem in Chinese:
义乌出土
义乌很洋,国际商贸城的风范
义乌也很土,其经典形象
仍是一个手摇拨浪鼓的货郎
在义乌汽车站,扑面而来的集市气息
风风火火,杂货味夹杂汗味飘散空气中
笑声、哭声和骂声汇入同一喧闹的洪流
劳斯莱斯和肩挑箩筐的农民工都堵在街角
焦灼、欣喜和痛苦的表情交替闪现,直到
一个人已分不清泪水还是濛濛细雨渗入泥土里
在这里,我深刻感受到了什么是田野草根
在短暂的义乌之行后,我一直笔挺的
灯芯绒西裤,沾上了久违的泥巴
因为在大都市里,只有水泥地
而此地,还有土壤和野草散发的朴素清香……
A Carved Wooden Chair
by Chilechuan
Not a trace of sky, earth, or ax…
they have no effect on it anymore.
All the faults were smoothed and polished,
now it looks like a timeless flower —
Someone separated it
from many other wooden chairs.
It sits alone, like the quietest heart
that yields to fate too often: lonely, powerless,
being sanded down again and again —
An antique, with countless old cuts…
The carved wooden chair is no longer a chair.
Only time comes to rest on it,
and no one else dares to
do the same.
Translated by Meifu Wang and Michael Soper
from 21st Century Chinese Poetry, No. 7
This poem in Chinese:
雕花的木椅
文 /敕勒川
似乎天空、大地和斧头……已与它
无关,所有的伤口
都被抹平,抛光,幻化成了
永恒的花朵——
一把雕花的木椅,被人
从众多的木椅中分离出来,安静得
不能再安静,像一颗
过分安于命运的心:孤独,无奈……被一粒尘埃
反复敲打——
太古老了,那些疼痛……一把雕花的木椅
已不再是一把木椅,除了时光
已没有人敢
轻易
落座……
Letter to a Friend
by Ah Xin
Let me tell you about these sheep. In many ways
they are like those ocean creatures you know so well:
in the benevolence of the creator, they bear children,
each has a face of a lad or an old man.
These days they are on the hills, a tight flock, a warm flock,
with a thin frost on, like a white mountain.
Above them are countless constellations:
the Bear in the north, the Dipper in the south, the Arabian Aquarius,
the Milk Way flowing like the Amazon…ancient but refreshing.
I set up my tent next to them.
My dreams are numerous, too, and each brings its own comfort.
Dawn, dripping with dew, floats down to the grassland at the foothill,
like an armada of ships sailing towards an unknown sea.
As for me, I will return to the city, where
my days and my fate await.
Translated by Meifu Wang and Michael Soper
from 21st Century Chinese Poetry, No. 6
致友人书
文 / 甘南阿信
现在可以说说这些羊。它们
与你所熟悉的海洋生物具有相似性:
被上帝眷顾,不断地繁殖,长着
一张老人或孩子的脸。
现在它们回到山坡,挤成一团,互相取暖。
现在它们身上覆着一层薄薄的寒霜,和山坡一样白。
现在它们上方的星空也簇拥着无数星座:
北方的熊,南方的榕树,盛净水的阿拉伯水瓶,
南美大河……古老又新鲜。
我的帐蓬就在它们旁边,
我梦见的和它们一样多。安慰也一样多。
黎明抖擞着潮湿的皮毛奔向山下的草地,
像满帆的船队驶往不可测的海洋。
而我将重新回到城市,那里
有等着我的命运和生活
ON TOP OF EASTERN MOUNTAIN
by Bai Ma
At forty, I thought I knew what was what, and moved to the mountains,
picked up prime farmland short of a hectare riddled with clouds.
Spring is the time to sow, the soil bustling, with people plotting life and death —
the fate of a fennel seed is in a flick of my hand.
The baby chestnut tree was brought home from the market,
then the soft rain, beseeched by me, came like a sigh at night.
Hundreds of flowers teeming, leaving me behind, useless even if putting on rouge.
The mountain felt like a middle-aged woman blessed with child.
Nature went about its business day and night: the ways of the birds and the bees
all enter the beekeeper's account, like frost on the roof.
My romantic ambitions faded by the end of summer,
some irrational and uncalled-for schemes.
The mountain accomodates every one under the gaze of the stars,
even a small snake, whom I stumbled across in the ravine,
and a myriad of plants and trees named by men, regardless.
Time flows by in the mountains, absent of memories, undisturbed by the past.
Besides those resting in graves, myself wandering about,
those recessing at the potato patch, and the secretive behind the bamboo groves,
there was hardly a soul around. I began to get used to how trees think
and how wild grasses grow, and tread lightly lest to startle the turtledoves.
As to the land, apart from praise, any other words is cheap talk.
Winter is for chopping wood and lighting fires, but to act like a thinker
is absurd. Compared to trees, mountains, and rocks,
my composition is overly complicated: family name, age, acquired skills,
origin unknown, and whereto is anyone's guess.
The full moon only shines on top of our Eastern Mountain.
The full moon only rests on the trees on Eastern Mountain,
brightening the graves, and brightening up the ashen eaves of a few houses,
a weary scene from the never-ending years, a wordless lament.
Translated by Duck Yard Lyricists, a group of devoted poetry lovers: Meifu Wang, Michael Soper, Peter Micic & Johan Ramaekers
东山顶上
白玛
四十岁,妄以为不惑,搬进山里
获良田七分,头顶浮云好几片
春日忙播种,地里都是铺排生死的人
一把茴香种子的命运贸然由我决定
小栗子树是从集市上带回的
一夜细雨如叹息,是我求来的
百花开疯了,把我晾在一边,抹胭脂无用
整座山如同一个怀孕的中年母亲
土地日夜酝酿大事:关于蓝尾雀的和野刺玫
捎带养蜂人的盘算,瓦砾上单薄的反光
我试图吟唱的野心消褪于夏季
我的主意古怪又多余
一座山安顿所有。在群星注视下
包括一条小蛇,我在涧沟那里遇见它
包括被人类以名词裹挟的草木种种
山里有光阴,却没有回忆。不被过去打扰
除了长眠墓地的人,除了四下游荡的我
算上竹林里以手掩面的和土豆地里歇息的几个
山中人烟向来稀疏。我得适应树木的想法
和野草的习性。还要令斑鸠不因我的脚步受惊
对土地而言,赞美之外的任何言语都是多嘴
冬季允许劈柴、生火,但模仿一个托腮的
思想者就难免可笑。和树木山石相比
我的构成过于繁复:姓氏、年龄、后天的本事
来历不明,去向亦成谜
圆月亮只光顾我们东山顶上
圆月亮只安放于东山顶的树梢上
照耀墓地也照耀清冷的几户灰屋檐
这也是不败岁月里黯然一景,是首无言啜泣之诗
A MYRIAD OF COLORS, PRIZE FROM AFAR
by Chen Yundong
The night is calm when we arrived at Delingha,
with nothing but darkness between the Gobi Desert and the distant mountains.
We recite poetry aloud in a halal noodle shop.
The drivers drink quietly, gulping down wine with travel fatigue,
their faces weather-worn.
Snow has concealed all animal tracks in the forest.
White mist continues to fall from the edge of the roof,
with a hint of red, from the lanterns on the wooden beam.
I travel a long way to this snowy country, a desolate place
that seems to illuminate the rivers in me.
Here in Mulan grassland, lakes descend from the sky–
a vast sky, a towering sky, an abandoned blue sky
that watches over the flowers, the wine, and the rolling greens.
I pass by this land of lakes, each named after the sun, the moon, and the stars
in their transit.
On the way to Mogao Caves, one must meet the desert.
The timeless yellow color stretches out
and dismisses all worldly fears.
Let us distill a strong spirit from our blood
to salute the bright moon that presides over heaven and earth.
I roam this place that's larger than me, and will always return to it,
to take home a myriad of colors. These massive colors
will stay with me till the days my hair turns white,
to remind me of the secret of life
when I feel caged, like an embattled animal.
Translated by Duck Yard Lyricists, a group of devoted poetry lovers: Meifu Wang, Michael Soper, Peter Micic & Johan Ramaekers
This poem in Chinese
我从远方带回众多颜色
陈允东
赶到德令哈,夜已无声
黑暗笼罩远处的山脉和戈壁
我们在一家清真面馆大声朗诵诗歌
司机默默饮酒,饮下一天的行程
他们的面庞风霜凝结
大片的雪和森林覆盖鸟兽的足迹
白色的呼吸从屋檐落下
灯笼挂在木梁上,是仅有的红
这里是雪乡,我不远千里来此
遁一片茫茫,照亮身体里沉默的河
在木栏围场,一群湖泊从天空降临
这天空庞大,高高的蓝,孤单的蓝
俯视人间的花、酒、连绵的草木
我经过这里,太阳、月亮、星星
经过这里,人们以此为众多湖泊命名
去敦煌的路上,要与沙漠相遇
那年老月深的黄铺在眼前
让尘世的恐惧不值一提
必须要从人类的血管里抽出一瓶烈酒
敬那一轮盛大的月,它清澈,看天圆地阔
走过的地方大于我,我总要适时归来
带回众多颜色,这颜色巨大
会在我的一生中停留,看我长出白发
也会在我成为困兽之时
说出活下去的秘密